07 Jan

ACJC 2019 CNY celebration at The Valley

Please join us in celebrating the arrival of the
Year of the Pig
With a night of entertainment & excitement at
The ACJC Spring Banquet Dinner
The Celebrity Room
Moonee Valley Racing Club
Friday, 8 February 2019
6 – 10.30 pm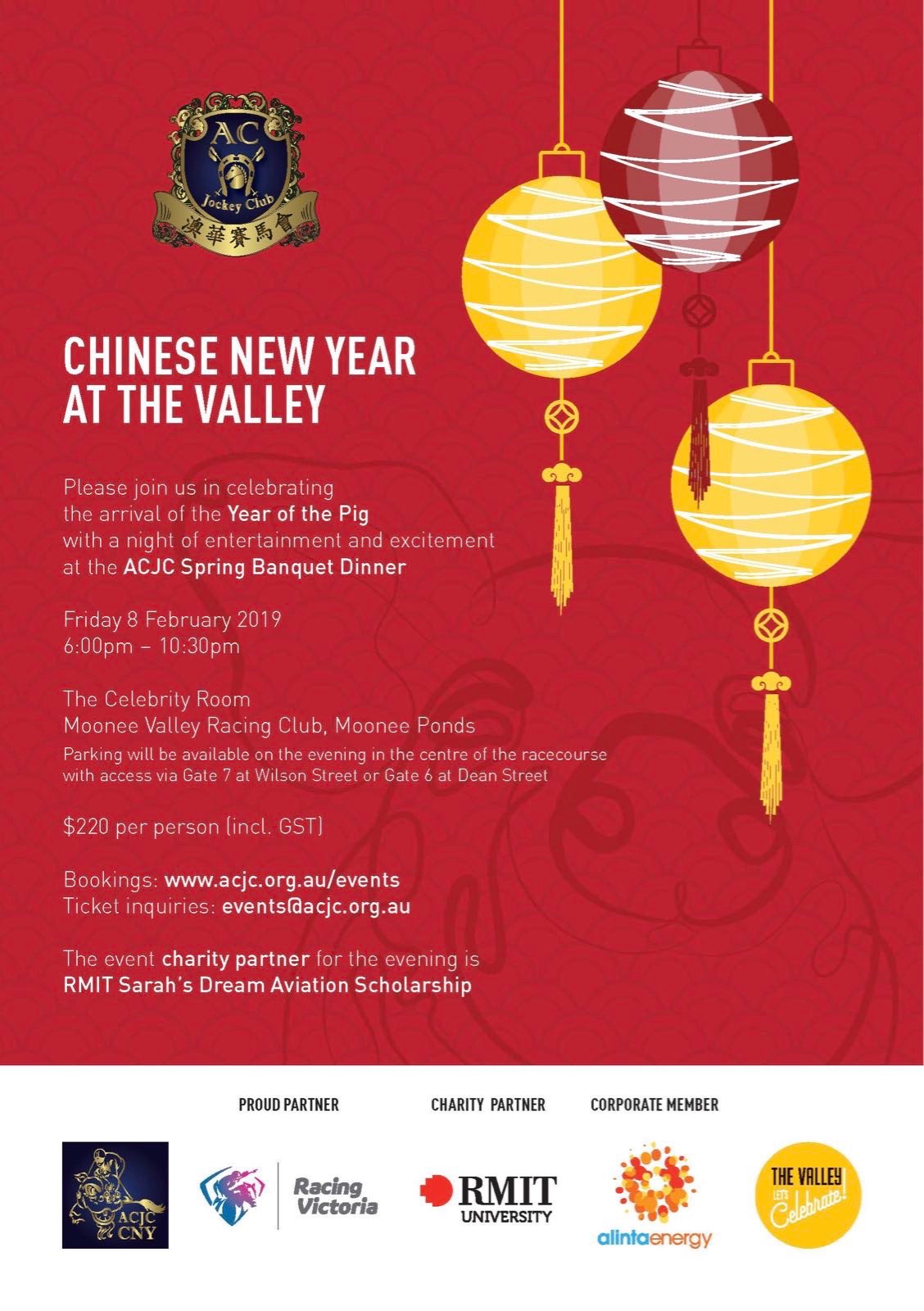 Alinta Energy is the naming sponsor of the event and RMIT is our charity partner for this spectacular night. Over 500 distinguished and invited guests will converge in our main Spring Banquet Dinner enjoying a fantastic night of extraordinary entertainment, exciting live racing, amazing prizes and more.y draw prizes.
1. ACJC Corporate Member Alinta Energy is the naming sponsor of 2019 (plus the following 2 years) of the Chinese New Year Celebration at the Valley. Alinta Energy is a full subsidiary of Chow Tai Fook Group in Hong Kong.
2. The ACJC function at the Celebrity Room with a total of over 550 guests, including the VIP guests of Alinta Energy and Moonee Valley Racing Club promises to be the biggest and most glamorous Chinese New Year party on a Melbourne race track – an event not to be missed!
3. ACJC charity partner for this year's function is RMIT Sarah's Dream Aviation Scholarship. We are honored to partner RMIT in this worthy cause.
4. RMIT will provide 2 Flight Simulators to the night – for a voluntary donation, attendants, families on the night will have the rare opportunity to experience a true to life " pilot flying" entertainment on these flight simulators.
5. RMIT will also provide 2 full flight trips over the sky of Melbourne as lucky draw prizes.